Debra Lyn
Gimme Some Lovin'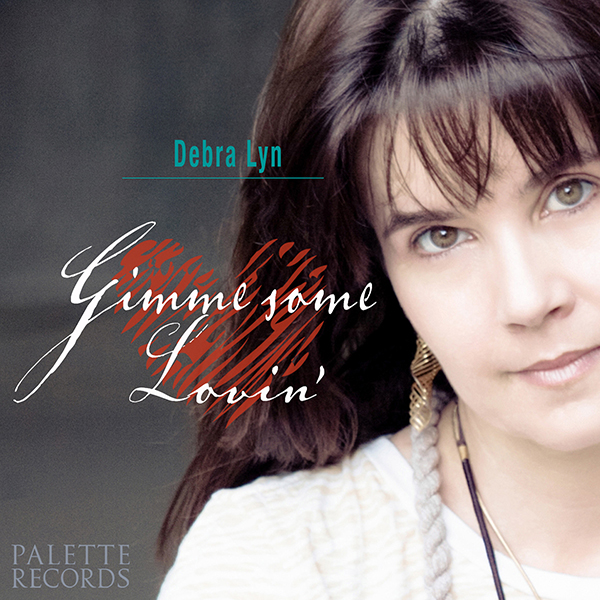 Release Date: 2014 & 2016| Palette Records
Format: Digital Release
For licensing info. Email: info@paletterecords.net
ABOUT GIMME SOME LOVIN'
Jeff Silverman has produced a powerful, toe tapping arrangement with the classic "Wall of Strings" as only Jeff and Tim Lorsch can create. Add Matthew Burgess on percussion and Debra Lyn on vocals and you have a dynamic, catchy song reminiscent of the classic Steve Winwood/Spencer Davis hit.
GIMME SOME LOVIN' was released on Palette Records as a studio single in March 2016. This follows Debra Lyn's "A Cold Wind Blows" album.
Watch GIMME SOME LOVIN'
(Live Version)!
Video clip from the "Songwriters In The Round" Live-Feed Event
CREDITS:
Produced, Arranged,
Engineered, Mixed & Mastered by:
Jeff Silverman at Palette (MSP) music • studio • productions
Mount Juliet / Nashville, TN • www.palettemusic.net
MUSICIANS:
Lead Vocal – Debra Lyn
Background vocals – Debra Lyn, Jeff Silverman,
Matthew Burgess and Tim Lorsch
Drums/percussion – Matthew Burgess
Strings – Tim Lorsch
Guitars/ Bass – Jeff Silverman
WRITERS/PUBLISHERS:
Steve Winwood, Muff Winwood, Spencer Davis
Universal – Songs of Polygram International INC
Kobalt Music Pub America | OBO F S Music LTD
Gimme Some Lovin' Lyrics
Steve Winwood, Muff Winwood, Spencer Davis
Universal – Songs of Polygram International INC
Kobalt Music Pub America | OBO F S Music LTD
Well, my temperature is rising, and my feet left the floor
Crazy people knocking 'cause they wanting some more
Let me in baby, I don't know what you got
But you better take it easy this place is hot
And I'm so glad we made it, so glad we made it
You got to gimme some lovin', gimme, gimme some lovin'
Gimme some lovin', gimme, gimme some lovin'
Gimme some lovin' everyday
Well, I feel so good, everything is getting higher
You better take it easy 'cause the place is on fire
Been a hard day and I had so much to do
We made it baby, and it happened to you
And I'm so glad we made it, hey, hey, so glad we made it
You got to gimme some lovin', gimme, gimme some lovin'
Gimme some lovin', gimme, gimme some lovin'
Gimme some lovin' everyday
Well, I feel so good, everything is getting high
You better take it easy 'cause the place is on fire
Been a hard day and nothing went too good
Now I'm gonna relax honey everybody should
And I'm so glad we made it, hey, hey so glad we made it
You got to gimme some lovin', gimme, gimme some lovin'
Gimme some lovin', gimme, gimme some lovin'
Gimme some lovin', gimme, gimme some lovin'
Gimme some lovin', gimme, gimme some lovin'
Every day