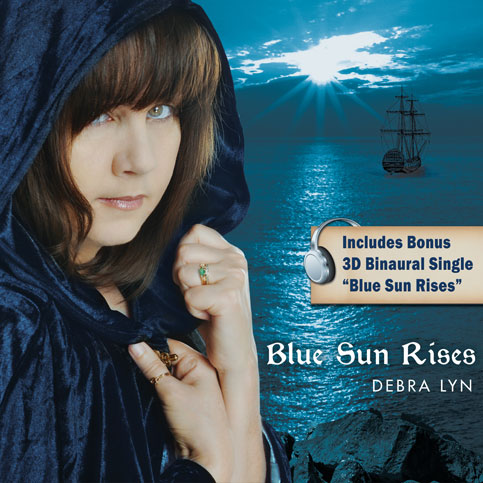 Blue Sun Rises – New 3D Binaural Single & Lyric Video
Album Newly Re-mixed and Re-mastered for HD
If you feel like you need a break, please grab your headphones and experience Debra Lyn's newest 3D binaural ? re-mix of her title track, BLUE SUN RISES. More info below about her new 2020 digital album and single release
Debra Lyn and I are very proud to announce that her album BLUE SUN RISES has been re-mastered and re-released for the new tiers of high definition music now available for HD stores such as Amazon Ultra High Definition (Ultra HD) and Apple Music (Apple Digital Masters). Many of these HD services now offer premium/studio quality audio and 3D content ranging from 3D Binaural headphone mixes to Dolby Atmos surround sound for both streaming and download.
The title track "Blue Sun Rises" has also been re-mixed and re-mastered as a 3D Binaural single and is included on her digital album as well. 3D Binaural immersive headphone audio makes the listener feel as if they are actually "inside" the song – hearing the music revolve around them. I know we're ahead of the the curve, but we feel this is the future audio listening experience for us all!
We hope you'll enjoy throwing on a pair of headphones and re-experiencing the newly enhanced lyric video of "Blue Sun Rises!"
Available on Palette Records, Debra Lyn's website as well as HD, Ultra HD and ALL major digital outlets!
Debra and I would like to wish everybody the best of health and we hope you stay safe during these challenging times.
SONG:
Words & Music: Debra Lyn/Jeff Silverman
(Debra Lyn Music/SESAC, Palette Songs/SESAC)
CREDITS:
Produced, Arranged, Engineered
Mixed & Mastered (Album and for Apple Digital Music) by: Jeff Silverman at
Palette Music • Studio • Productions (MSP)
Mount Juliet / Nashville, TN
www.PaletteMusic.net
www.VirtualStudioNetworks.com
MUSICIANS:
Vocals – Debra Lyn
Drums / Percussion – Matthew Burgess
Irish Flute & Whistle – Sean Cunningham
Celtic Harp – Aileen O'Brien
Baritone Acoustic Guitar / Bass – Jeff Silverman
Video Design and Production by:
Heiko Gentsch – https://www.gentsch-gentsch.de
Graphic Design by: DLS Graphics – https://www.dlsgraphics.net
Listen to Jeff Silverman's Stereo to 3D Binaural Mix Comparison at: https://youtu.be/mlflgx-zg0U