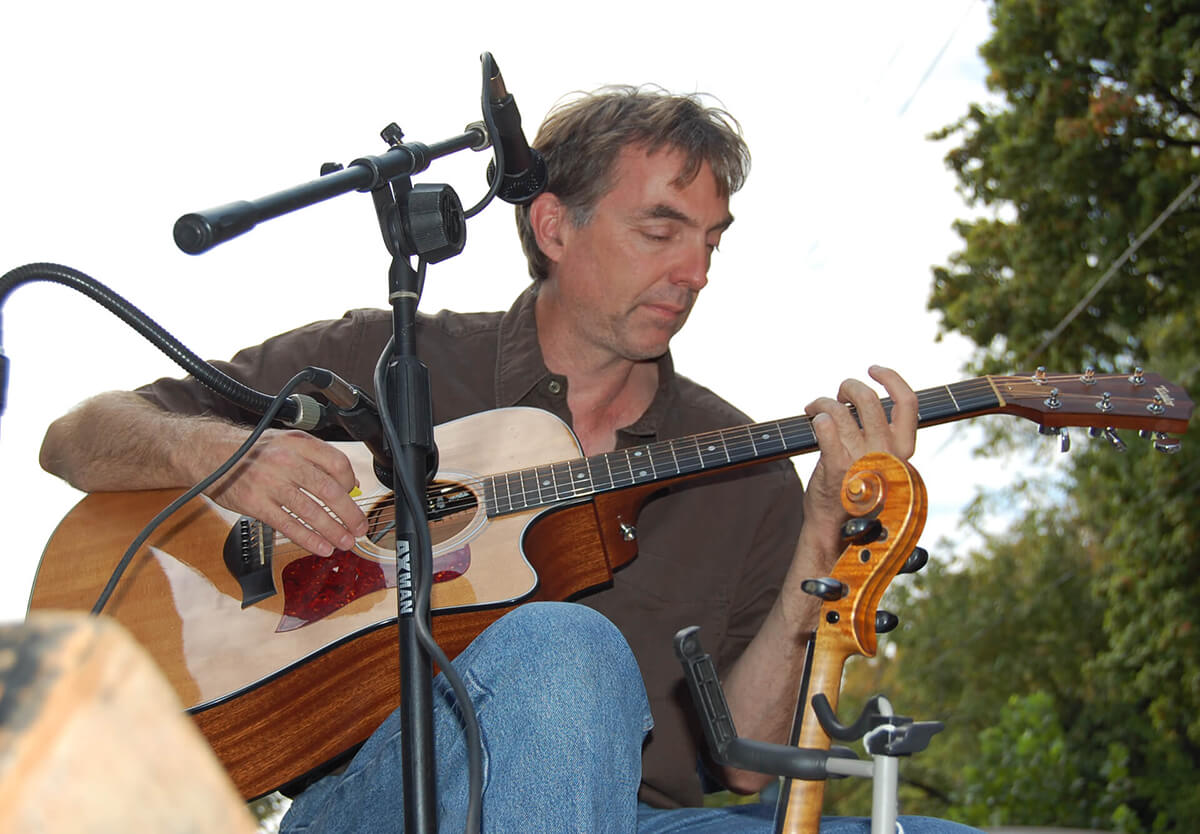 David Gilbert Foster
Vocals/Acoustic Guitar
David Gilbert Foster is a singer, songwriter and multi-instrumentalist from Galax, Virginia. David has lived in Horse Cave, Kentucky for the past 30 years. David co-founded Soulgrass with singer/bassist Debbie Heavers (now known as Debra Lyn) around 1999 and began playing festivals along with Curtis Burch on dobro, Joel Whittinghill on fiddle and Joe Larsen on banjo. After the first CD, Joe was replaced by Billy Ray Lathum on banjo, and Mike Schroeder began playing mandolin for the band. The 2002 Soulgrass release received airplay on more than 300 radio stations throughout the U.S. Australia, France, England and the Netherlands. The band headlined the Mayberry Days festival in Mount Airy, North Carolina and performed in venues such as Nashville's Station Inn and Johnson City's Down Home Pickin' Parlor.
In 2022, David released his solo album American Dream which features 9 original songs and showcases David's songwriting and singing. The album, includes the single "We Are One" which was released in April 2020 honoring the essential workers during the Covid-19 pandemic, which also features John Cowan on bass and vocals.
American Dream is David's first solo release since Nylon Highway in 1981. Nylon Highway is an album of original songs about caves and cave exploring commissioned by the Richmond Area Speleological Society. Three of these songs won first, second and third in the National Speleological Society's ballad competition in 1978.
David's cave exploring hobby led to a career working for the American Cave Conservation Association. He is currently the President/CEO of the nonprofit organization. David led restoration efforts to clean up Hidden River Cave, one of the most polluted caves in America. David directed the creation of the American Cave Museum and the reopening of Hidden River Cave in 1993 as well as a recent expansion of the cave tour. To learn more about this remarkable conservation success story in the town of Horse Cave, please visit the Hidden River Cave website (www.hiddenrivercave.com).
David's first foray into recording original music was in 1981. David entered his song "Love Is All Around You" in Bristol, Tennessee radio station WQUT's Best of '81 contest, a radio contest sponsored by John Anderson. "Love Is All Around You" was one of the 10 finalists out of hundreds of entries and was included on the WQUT Best of '81 album.
David's Celtic group, Barrenhart, with mandolinist Hazel Johnson, bass player/bagpiper Greg Cutcliff and fiddler Masako Jeffers has been a fixture at Scottish music events through Kentucky for the past decade. Barrenhart released a CD of traditional Celtic tunes, folk songs, and the song "Tumbling Down," one of David's originals. To hear Barrenhart visit their website at www.barrenhart.com.
You can read more about David and listen to his new album by clicking below!