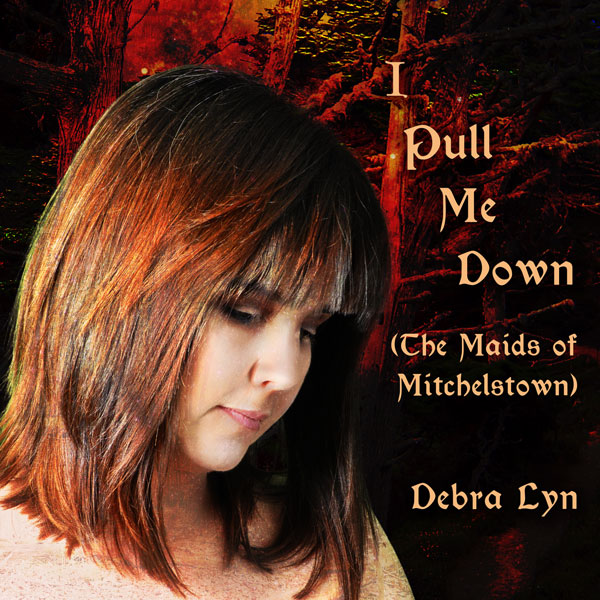 Release Date: 2018 | Palette Records Format: Digital Release
For licensing info. Email:
info@paletterecords.net
"I Pull Me Down"
(The Maids of Mitchelstown)
In honor of her Irish roots, Debra Lyn and her Producer, Jeff Silverman have morphed the Irish / Celtic style, sound and instruments into her newest 2018 single release, I PULL ME DOWN (The Maids Of Mitchelstown). This song features excerpts from the traditional Irish tune "The Maids of Mitchelstown" and is a prelude to her upcoming CD due to be released early 2019. Debra Lyn's new album on Palette Records is going to feature original songs combined with other traditional Irish, Celtic and Appalachian classics and her unmistakably distinct acoustic Folk / Americana sound, style and performances.
I Pull Me Down (The Maids of Michelstown)
Words and Music by: Debra Lyn and Jeff Silverman
Debra Lyn Music / SESAC – Palette Songs / SESAC
Irish Traditional Music: The Maids Of Mitchelstown
Copyright 2018
Verse 1:
Cold, cold is the night
No moon, no stars, blue midnight
Shadows dancin' on the wall
Deeper into you I fall
Dark, dark is my heart
Broke and too afraid to start
To love again, to twist and bend
Believe forever has no end
I try to find my way
Chorus:
But, I just pull me down
I can't break free – there's no escape
I fall so far I drown
Without a breath for me to take
I pull me down
Under the ground
I pull me down
Verse 2:
Gray, gray are my days
Let this candle light my way
Light the darkness, calm my fears
Hold me till they disappear
There's no one for you but me
But, I can't let myself believe
I can't run and I can't hide
When what I fear is here inside
I try to find my way
Chorus x 2:
But, I just pull me down
I can't break free – there's no escape
I fall so far I drown
without a breath for me to take
I pull me down
under the ground
I pull me down
CREDITS:
Produced, Arranged, Engineered, Mixed & Mastered by:
Jeff Silverman at Palette Music • Studio • Productions (MSP)
Mount Juliet / Nashville, TN
www.palettemusic.net
www.VirtualStudioNashville.com
MUSICIANS:
Vocals / Mountain Dulcimer – Debra Lyn
Irish Flute – Sean Cunningham – www.whistletutor.com
Irish Fiddle – Bill Verdier – www.nashvilleceiliband.com/about
Baritone Acoustic / Bass – Jeff Silverman – www.palettemusic.net
Hand Drums / Perc. – Matthew Burgess – www.percussionator.com
PHOTOGRAPHY:
Photo of Debra Lyn by: Jenny Johnson, J Willowtree Photography